Ever since news of the outbreak of swine flu in Mexico there has been a whirlwind of coverage. One thing that is impossible to miss is the incredible range in the tone of reactions. US officials have been largely muted, while countries like Russia are screening every single plan that arrives from the Americas. Randall Munroe of xkcd did a good job, as usual, of capturing the internet's reaction: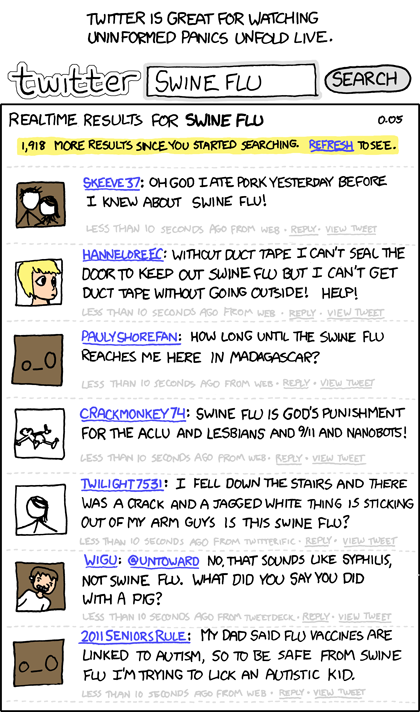 There's actually a good reason for the disparity in reactions, however. It's a tale of two flues.

Spanish Flu Pandemic (1918)

An outbreak of influenza from March of 1918 to June of 1920 that swept the entire globe, infected nearly half of the entire human species, and killed up to 100 million people. This strain of the flu was unusual in that it caused an overreaction in people's immune system which led to a higher mortality rate among young, healthy people than among the very young and very old.

Swine Flu Scare (1976)

After an army recruit died and others were hospitalized with a new swine flu outbreak, President Ford took an aggressive stance and decided to immunize the entire American population. (I guess he'd never heard of herd immunity.) It turned out this particular strain of influenza wasn't really that dangerous, but the vaccine was. About a quarter of the American population was vaccinated before the program was halted, and by that time about 500 Americans had died from reactions to the vaccine.

The memory of the 1976 vaccine debacle explains in part the reluctance of the United States to go to extremes in responding to the current outbreak. In addition, there's the fact that cases in the US so far have been fairly mild. Finally, there's almost certainly political considerations with regards to America's open border with Mexico.

It's important to point out, however, that waiting for the next deadly flu strain is like waiting for the next big California earthquake. It's a question of when, not if.

Final thought: The words "pandemic" and "epidemic" are being slung around a lot these days. These words actually have definitions that go beyond "when a disease is really bad".

epidemic - An epidemic occurs when new cases of a certain disease occur in a given human population, during a given period, substantially exceed what is "expected," based on recent experience

This separates an epidemic from a disease that is endemic. Endemic diseases exist in a society perpetually but at a relatively low rate. Chicken pox is endemic in the United States.

pandemic - A pandemic is an epidemic of infectious disease that spreads through populations across a large region; for instance a continent, or even worldwide.

So I'd say - as a non-expert - that we've already got a swine flu epidemic in Mexico. It's not the season for flu and yet we've got thousands of sick people. If the swine flu spreads substantially across the United States then - between Mexico and the US - most of North America will be infected and we can start calling it a continent-wide pandemic.